Women have made huge strides to change the world for centuries now and have shown their strength and resilience during hard times. Did you know women tend to live longer than men even during epidemics and famines? Also, women have to endure the pain of childbirth and tend to stress more than men do, which make women true warriors. (Not to say that men aren't warriors in their own way; surely they deserve their own article as well, but this one is focused on women).
Below, we want to showcase some women who left their mark on the world with their intellect, strength, and bravery.
These photos perfectly capture times when women changed the world:
1. Laura Bassi was the first woman in the world to earn a university chair in a scientific field of studies.
© Mailsapartbassimore / Wikimedia Commons
2. Ruby Bridges was the first African-American child to go to an all-white school after desegregation was announced in New Orleans in 1960. She was guarded by US Marshals under the orders of President Dwight Eisenhower.
3. Elizabeth Blackwell became the first woman in the US to earn a medical degree. She was an advocate for women who wanted to pursue medicine; today, one woman per year who contributes to the cause of promoting women in medicine is awarded an Elizabeth Blackwell medal.
4. Nellie Bly faked insanity to get placed in a female mental hospital. After spending 10 days observing the conditions, she wrote an exposé article about the physical and mental abuse the patients had to endure.
She also traveled the world in 72 days. (That's a pretty amazing feat in itself!)
© H. J. Myers / Wikimedia Commons
5. This list wouldn't be complete without mentioning Rosa Parks. An activist in the civil rights movement in America, she grew famous for not giving up her seat to a white passenger in the front of a bus.
She then got arrested for refusing to move to the back of the bus so that the white person could take her seat. Like so many other African Americans, she had grown tired of unfair treatment due to the color of her skin. Because of her bravery, the laws changed so that black people could sit anywhere on the bus.
© Associated Press / Wikimedia Commons
6. 
Clara Barton, a Civil War nurse and founder of the American Red Cross, helped hospitals operate on the front lines of Virginia. In 1881, she started the American Red Cross, which still provides aid for humans across the world today.
© Public Domain / Wikimedia Commons
7. Annie Smith Peck, an American mountaineer and adventurer, also served as a founding member of the American Alpine Club. She continued to climb mountains even at the age of 82. In 1895, her climbing outfit made the news since women couldn't wear trousers in public back then.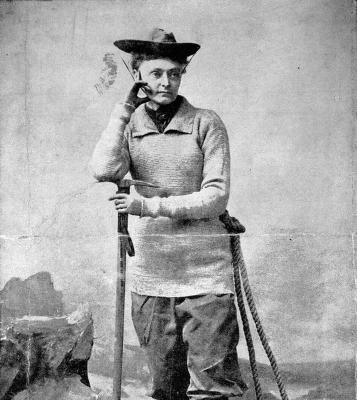 © Public Domain / Wikimedia Commons
This isn't an exhaustive list of women who have left their legacy behind; however, these women certainly challenged the mainstream and deserve mention. Do you know of anyone we should add to the list? Share with us in the comments below!
(C)Power of Positivity, LLC. All rights reserved