Riot's First Person Tactical shooter has an amazing range of weapon skins and you're going to spend a lot of time looking at them. Along with its prominent esports side, the c You can obtain them in the store,daily offers, through Contracts, and the 90 days long periodic Battle Pass.
Even with all the different customizations we have ready and planned, we made sure all content—weapon skins especially—are designed not to interfere with gameplay. Weapons in Valorant come with different styles which the user might need to unlock. These weapon styles modify your weapon's visuals, gradients, and the finisher effect. Radiante points are required to make such upgrades and can be acquired by clicking on the button below Valorant Points.
You can grab free skins as well by unlocking the Agent contracts. These contracts have 10 Tiers where upon reaching Tier 5, you unlock the agent. Upon completing the same, every agent contract will reward you a free skin.
How To Get The Weapon Skins in Valorant?
1. Launch Valorant.

2. Head to the store.

3. Over there you would see the featured Skin pack up for grabs. Newly launched skin packs last for 15 days.

4. Along with the skin pack, there would be 4 more skins listed for sale at a slightly discounted rate under the offers section.

5. Recently Riot had introduced the Night Market scheme where you can flip 6 unique cards. These cards would further reveal six unique skins available just for you at a special price.
How Do You Get Free Valorant Skins?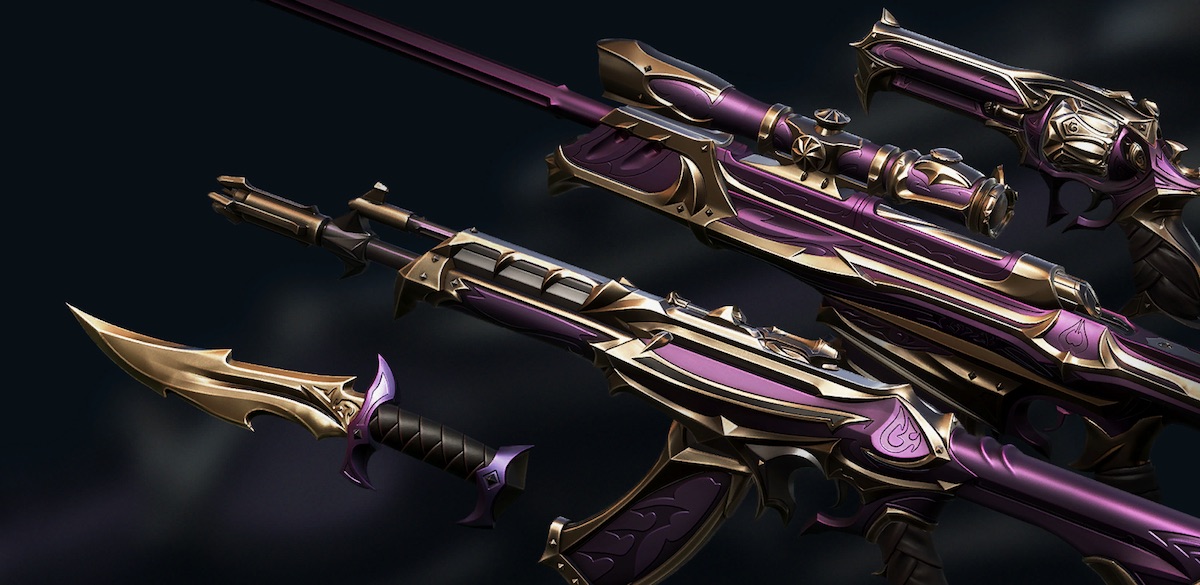 At the moment, skins in Valorant have a bit of a high price considering they're just for weapons. So can you get free Valorant skins? There are some, but they're different from the ones in the store.
It's good that you can get free skins in Valorant since the normal ones end up costing quite a bit of money compared to those in other games. There is a simple way to get free skins in Valorant for each Agent.
Once you unlock agent contacts, you can progress through two chapters with each agent. Each lets you unlock things like sprays, and eventually skins. Once you get to Tier 10, you'll be able to actually unlock free Valorant skins. These aren't as fancy as the paid ones and only apply to one character. However, it's a fun way to add a bit of color to your main Agent's weapon.
They do require quite a lot of XP to actually get through. Around 625,000 XP is going to be needed overall. If you focus, then you can get things unlocked as quickly as possible. Daily missions get 2,000 XP and you can complete two a day. So, 28,000 in a week. Then there are weekly missions that can get you 10,00 XP points. Overall this means you should only need a few weeks to get to the free skins tier of each Agent. It'll take a while, but this is how you can get free Valorant skins.